Print book
Overview of the Moodle resource
| | |
| --- | --- |
| Printed by: | |
| Date: | Sunday, May 16, 2021, 7:45 PM |
What is Moodle?
MNU's Learning Management System (LMS) uses a powerful, open-source software called Moodle, which stands for Modular Object Oriented Dynamic Learning Environment. You can learn more about the system, and the consortium that developed it and still coordinates all improvements and extensions, at www.moodle.org.
This orientation module is a multi-page digital book, one of the many types of learning resources afforded by Moodle. See the triangular arrows on the right side of this page? Click on those to turn the pages of this book.There is also a Table of Contents at the top of the left column that you can use to navigate among these pages.
Now click the right-pointing arrow (triangle) to the right of this text to move on to the next page in this orientation.
Navigating in Moodle
As a new user, one of the first things you need to become familiar about is navigating in Moodle. Moodle is really just a very specialized web site, and navigating its interface is much akin to learning how to get around in any other website. The LMS is where instructors will provide students with content for courses, where the instructor will have communications with students and classmates in a course can communicate with one another, and where students probably will be asked to demonstrate learning in the course using some of the LMS's learning assessment tools the instructor has chosen. Finally, instructors normally will be posting grades in the course all along the way, here in the LMS's Gradebook.
First of all, please note the menu band at the very top of this page. Here you will see some MNU-specific links to resources and help. More on that later in the section on Resources for Help .
To get started, please review the following brief video about Navigating in Moodle, specifically how to find your courses once you log into Moodle.
Note: There is a Full Screen button in the lower right corner of the video player, if you'd like to enlarge the video for easier viewing.
Editing Your Profile
You should definitely update your Moodle profile, at least once as a new user.

Your profile in Moodle is where instructors and students can get to know one another better from information they may enter about themselves. Your profile also gives you some options you can choose that will be persistent throughout your Moodle experience, regardless of the particular course you may be in at any given time.
The following website details how to edit your profile:
Resources for Help
MNU has established a special help desk for this Learning Management System. It is available to all students and faculty 24 hours a day, 7 days a week, through a toll-free phone number and through live chat assistance. On every Moodle page you should be able to see a block in the margin with connection information to this valuable live help resource. You can find it in the upper right corner of the LMS Home page. Actually, you can probably see it right now in the right margin of this page.
Quick links

In the menu at the top of this LMS page, you can find links to "MNU Resources" and "Tutorials."

Online Tutoring
MNU offers free, live tutoring that is available online for extended hours throughout the day. The service is called Smarthinking, and you will find a link to it in the Academic Help block in the right margin of each page (note that for narrow screens - like phones - these blocks may get moved down beneath the main center section). lick the link, "Smarthinking: Live online tutoring." Please be assured that this service is not only for students with particular challenges in some areas, but that often the extra help can make the difference between a "B" and an "A" grade in a course.
Technical Assistance

For technical assistance other than Moodle, MNU has a technology service desk. Users needing assistance with user accounts, email, the University portal, etc. are encouraged to use the online service request system at servicedesk.mnu.edu. There you can fill out a form describing your issue (please be sure to use only your MNU email address for signing into the form), and a technical representative will respond soon. For especially urgent requests, you may call the service desk during business hours at 913-971-3333.
New Student Orientation
Are you a New Student at MNU?
If you answered yes, please follow the directions below to access our New Student Orientation. The New Student Orientation provides you with a brief tutorial on using online materials during your time at MNU. The orientation discusses the technology required for participating in online and on ground courses at MNU. The orientation will cover information related to the MNU Portal, how to begin using our Learning Management System (Moodle) and access library and student service resources. Once you have completed the orientation you will have earned a badge which will display on your profile page and a certificate of completion will be emailed to your MNU email address.

Steps to enroll in the New Student Orientation.

Step 1: Select MNU Resources at the top of the Moodle Toolbar.
Step 2: Select New Student Orientation from the drop down menu.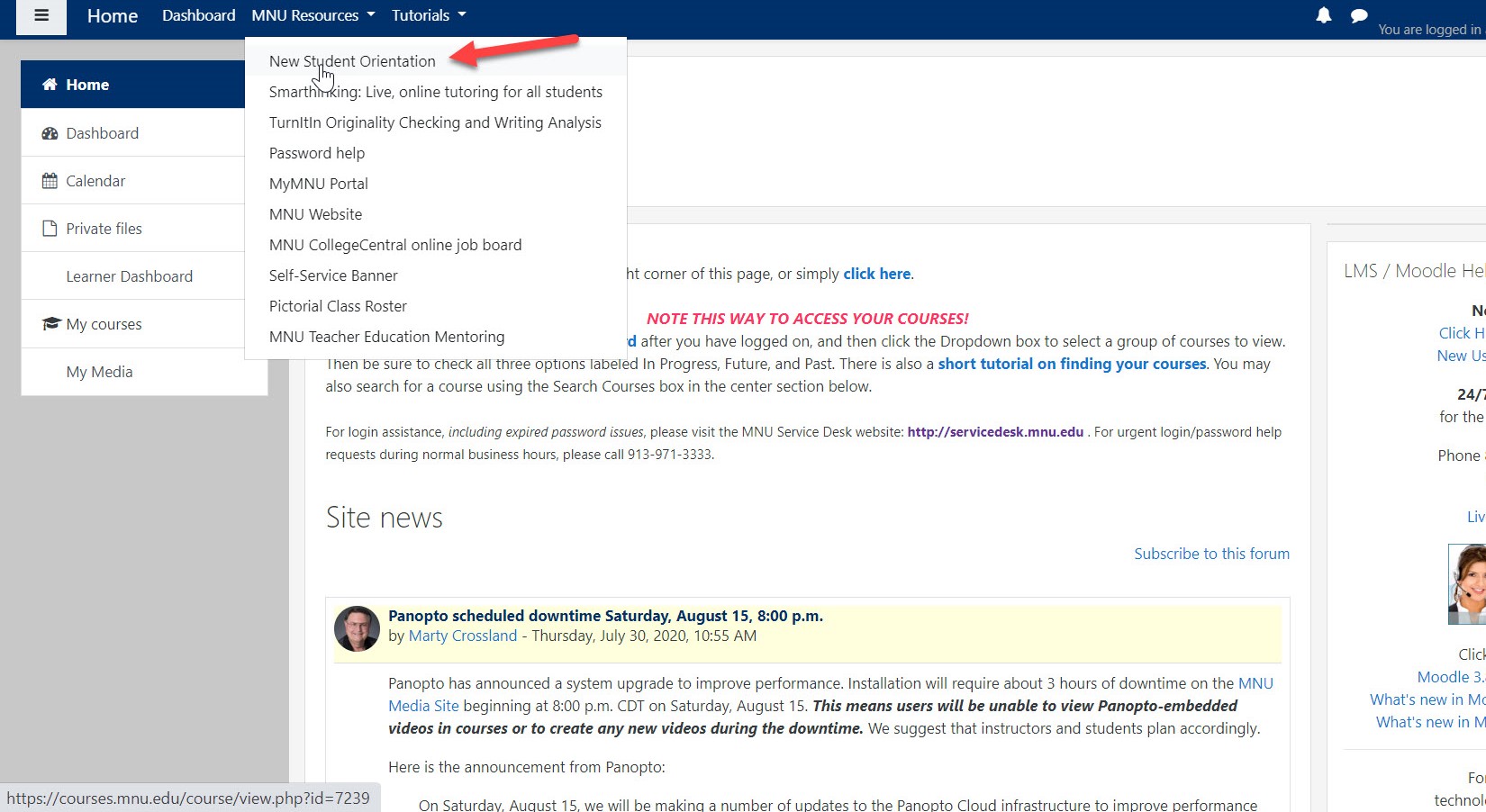 Step 3: Select Enroll Me.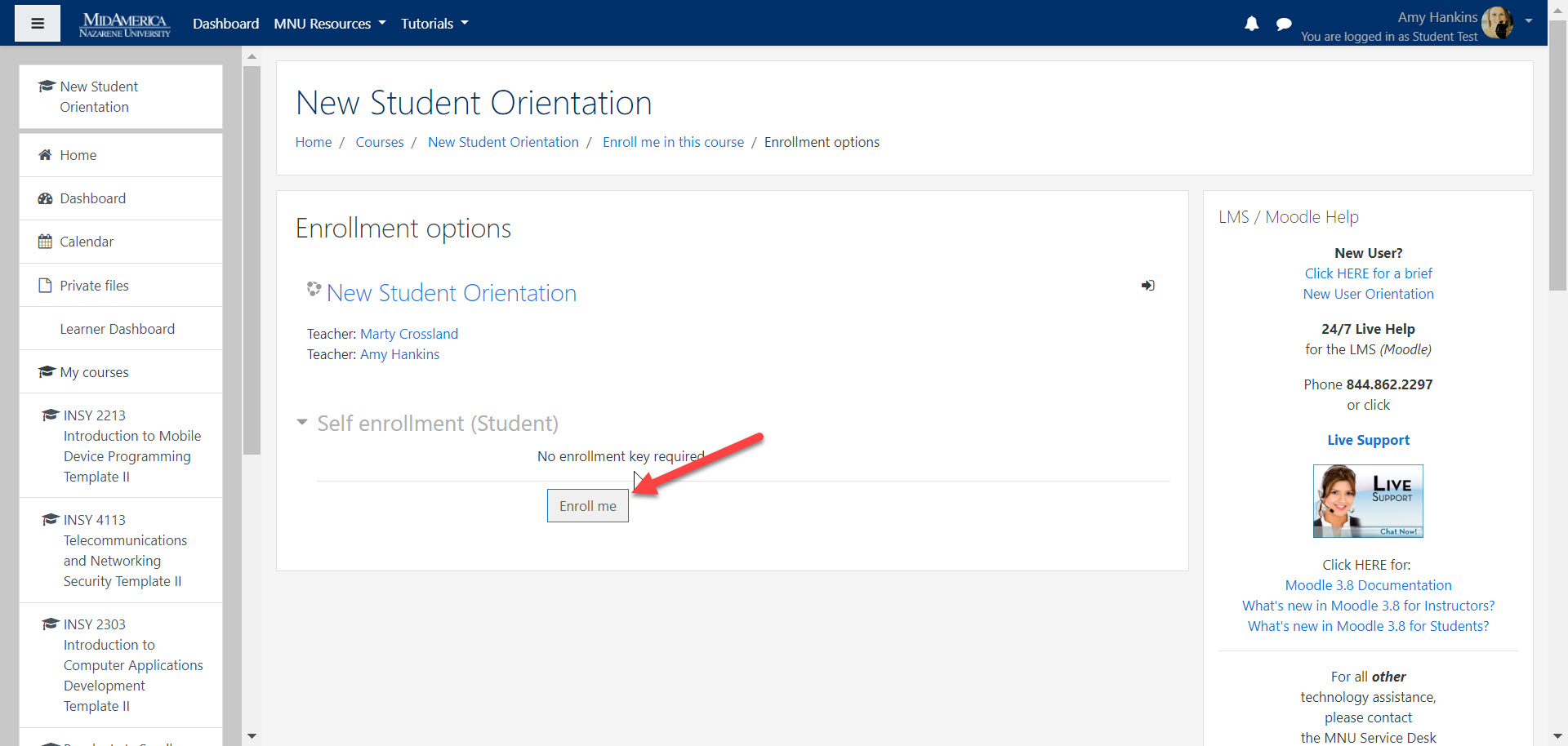 Step 4: Begin Student Orientation Course. To progress through the course complete all activities in each section before moving to the next section. Once all sections are complete you will be issued a certificate to download.